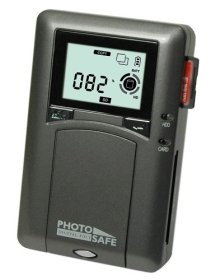 Recently a question came up about the best portable photo storage device for those who don't want to lug their laptops on the road, but who want to offload photos from their memory cards to a hard drive. Just about everyone loves the Epson P-5000 in terms of user interface, design, and that gorgeous LCD that displays 16.7 million colors, but not so much for the $699 price tag.
For a more reasonable $172, you can get the Digital Foci PSF-250 Photo Safe 80GB Portable Digital Photo Storage with Memory Card Reader. For this kind of savings, you don't get the beautiful color LCD, but you do get 80 GBs of storage, memory card slots for just about every card on the market, and a monochrome LCD featuring copy status indicator that displays percentage completed, transfer confirmation, and number of files copied.
Once you return home, connect the Digital Foci to your computer's USB 2.0 port. It mounts just like a regular external hard drive, making image download a snap. The device was among Pop Photo's Editor's Choices for 2007.
Is the Digital Foci the best portable photo safe for the money? That depends on your tastes. But you have to admit that it appears to be a capable and feature-rich device at an affordable price.
Technorati Tags: digital photography, product review, The Digital Story