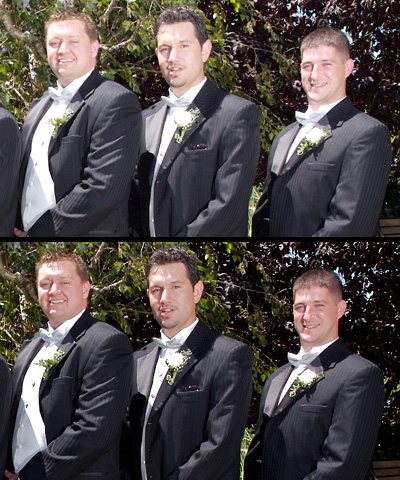 One of the toughest assignments in digital photography is to shoot in harsh light, especially portraits. There are things you can do at capture stage, such as shoot Raw, use fill flash, try reflectors, and zoom in tight when possible. We also have better tools in post production, such as Highlight and Shadow recovery. In this sample comparison here, I used the Highlight Recovery slider in Aperture to bring some skin tone back to these groomsmen.
In this podcast, I talk about surviving harsh lighting conditions and recommend techniques for coming away with professional looking images.
Monthly Photo Assignment
I also discuss this month's photo assignment, Intersection. Keep your eyes peeled for elements in life that bisect. You can read more about how to submit on our Submissions page. Deadline for entry is August 31.
Listen to the Podcast
Now that I've piqued your curiosity, it's time to listen to today's audio show titled, "Harsh Light." You can download the podcast here (28 minutes). You can also subscribe to the podcast in iTunes
The Digital Story Podcasts are available for direct download from Apple iPhones. I've created a special mobile download page here. Just load the page in Safari, browse the podcast line-up, and click on the one you want to listen to.
Want to share photos and talk with other members in our virtual camera club? Check out our new Flickr Public Group. It's a blast!
Have you looked at the Park by the Numbers Camera Phone Project? If you have a camera phone, you've got to check this out.

Events! See the TDS Event Calendar for photography workshops, speaking engagements, and trade show appearances.
---
Technorati Tags: digital photography, podcast, The Digital Story
---
Sponsor Notes...
Add Magic to Your Slideshows -- FotoMagico presentations are so amazing that your audience will be asking how you did it.