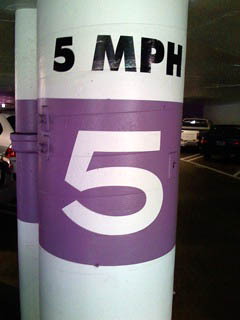 The Park by the Numbers Gallery is new and improved enabling you to upload your cameraphone pictures directly to the gallery via an email address (dstory-813z@gallery.mac.com) or by using the "Upload" button on the gallery web page. So now you can take your photo and add it to the gallery before you leave the parking garage.
"Park by the Numbers" is a camera phone project that began as a simple way to help me remember where I parked my car in big garages. But as I started to look more closely at these images, I began to enjoy them on the artistic level too, and became interested in taking other types of parking shots. So what started out as a practical use for a smartphone, has evolved into a creative look at an everyday function that many of us have in common.
You can learn more about the project by visiting the Park by the Numbers home page. So next time you park your car in a big garage, whip out your cameraphone, snap a photo, and if you like it, upload it to our gallery. It's fun... and it may just help you find your car after returning from a long flight.
Technorati Tags: digital photography, The Digital Story, Park by the Numbers