File this one under "Things I Knew But Forgot." I recently installed iPhoto '08 and the updated version of the Canon EOS Utility software. Suddenly every time I connected a camera or a card reader, Canon's CameraWindow would launch. It was driving me crazy.
Instead of going right to work in Aperture or Lightroom like I wanted to, I'd have to wait for CameraWindow to go through its process thinking it was going to get my photos. I checked its preferences and could not discover how to stop it from launching automatically every time I connected a camera.
Finally, when nosing around in iPhoto '08, I found the preference setting for "Connecting camera opens." Ah Ha! That was it. iPhoto controls all applications with this setting. I knew that. And guess what was selected in the preference pane? That's right: CameraWindow.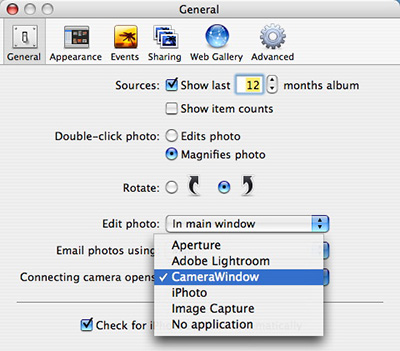 I've now changed the setting to "No application" so that nothing automatically happens when I connect my camera... just the way I like it.
Technorati Tags: digital photography, software, The Digital Story