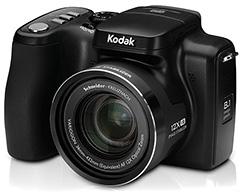 Kodak's latest announcements are right in line with the direction that consumer photography is moving. Take for example the Easyshare Z812 IS Zoom Camera. It's compact enough to fit in your jacket pocket, but captures stills and video in 16:9, and includes all of the bells and whistles that you'd expect from a state of the art digicam.
In my Podcast #96 on 16:9, I talk about how this aspect ratio can shake up your still photography and energize your videos. The Kodak Z812 is the perfect tool for this type of work. You can capture video in HD 1024x720 at 30fps using advanced QuickTime Mpeg 4 compression with stereo sound. If you want to shoot stills, then you have the 3264x1836 option, which is 16:9 at 6 megapixels. If you get the HDTV accessory dock ($100 US), you can connect it to your HDTV and playback the content in full resolution. (My guess is that you don't need the dock to do this because A/V cables are included with the camera, but it is a convenience.)
Other impressive specs include the 12X SCHNEIDER-KREUZNACH VARIOGON optical zoom lens, optical image stabilization, face detection, high ISO (up to 3200), 2.5" LCD, advanced program modes, and plenty of setting controls.
On the negative side, I don't see a custom white balance option nor Raw format. But everything else looks pretty good. The Kodak Z812 is both Windows and Mac compatible, and according to the Kodak web site, is available now for $299.95 US. This is a camera to keep your eye on.
Technorati Tags: digital photography, equipment, The Digital Story