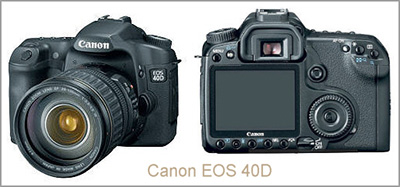 Bob Atkins has just published a helpful review of the Canon 40D. He tackles one of the biggest questions with this camera: is this a worthy upgrade for 20D and 30D owners?
"In just about every respect the EOS 40D technically outperforms the EOS 30D," says Atkins, "and so I think it is a worthwhile upgrade for those who can afford to switch and who can use the new features. I didn't feel that way about the 30D, which was a good camera but for me didn't offer enough new features to persuade me to trade in my 20D and upgrade."
As Atkins begins to really dig into the specifications of the 40D, you realize that this is really a new camera under the hood with more robust image processing capabilities.
"It's basically a new camera with a new sensor," says Atkins, "a new 14-bit processing engine, a new AF system and new features such as Live View, Highlight Priority and High ISO noise reduction as well as improved ergonomics with the enhanced 3" LCD. Though it looks much like the 20D/30D it seems to have a more "pro" feel--though I'm not sure why. Perhaps it's the quieter and faster shutter operation that simply makes it sound better!"
When I look at the 40D, I first think performance. For $1,299 US, you get a camera that fires at 6.5 fps with a buffer that can hold 17 Raw files per burst. That means you can shoot action photography in Raw. Add to this the AF system with 9 cross type sensors, the DIGIC 3 processor, and 14-bit A/D conversion, and you have machine capable of handling just about any assignment.
The Bob Atkins review also does a good job of covering the 40D's image noise performance, auto-focusing ability, and Live View (on that new 3" LCD with broader color gamut). Both the Canon 40D and the Atkins review of it are worth a look.
Technorati Tags: digital photography, product review, The Digital Story