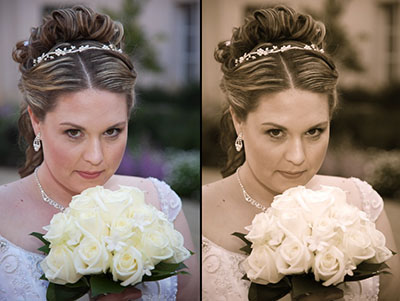 You can create a variety of effects in iPhoto 7 (part of iLife '08) that rival what you can do in more advanced applications such as Photoshop CS3. One of these effects, "Antique," is a good one to consider for bridal portraits and family group shots. And best of all, it's easy to apply.
First duplicate your color image in iPhoto (Photos > Duplicate). Then click on the "Edit" icon at the bottom of the window (it's the pencil) to put you in edit mode. Once there, click on the "Effects" icon to open its palette, the choose "Antique." iPhoto will apply the effect to your image. You can increase or decrease its impact by clicking to the right or left of the number that appears in the effect icon. I usually settle for a setting of 3 or 4.
You're not finished yet. Now click on the "Adjust" icon to open its palette. Many iPhoto users don't realize that you can continue to play with the Antique effect by moving the Temperature and Tint sliders until you get the perfect look you're seeking. You may also want to make some final exposure adjustments while you have the palette open.
One final tip... you can sometimes smooth out skin blemishes by playing with the "Reduce Noise" slider. Don't overdo it, but a little noise reduction can enhance the the subject's appearance. Then click Done. You've now created a stunning Antique effect without ever leaving iPhoto.
Technorati Tags: digital photography, software, technique, The Digital Story