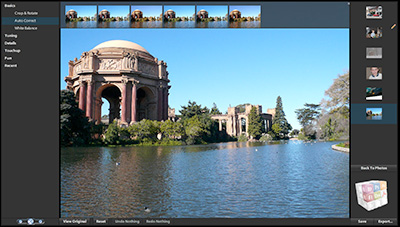 Adobe's announcement of Photoshop Express was the most interesting news for me at the recent Photoshop World in Las Vegas. This Rich Internet Application (RIA) will allow users to adjust their photos via a web browser instead of using an application that resides on their hard drive. This is particularly useful for travelers using a variety of public computers in conjunction with online photo services such as Flickr.
My current favorite image editor of this type is Picnik, which I think works very well. Photoshop Express, as well as Picnik, are free RIA applications. There's been no firm date for the release of Express, but I imagine we will hear more about it in the coming weeks. I'll keep you posted.
Screenshot of Photoshop Express compliments of John Nack.
Technorati Tags: digital photography, The Digital Story