The HP Photosmart A626 Compact Photo Printer produces lab-quality output up to 5"x7", includes a 4.8" touchscreen LCD display, and accepts common memory cards for computerless printing -- all in a package that weights less than 4 pounds and is about 10" wide. It even has a popup handle for easy toting.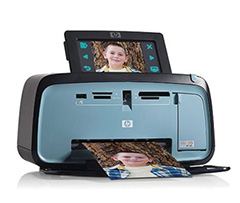 The A626 uses HP inkjet technology for prints up to 4800 x 1200 dpi via USB, PictBridge, or one of its four memory card slots. Generally speaking, it produced beautiful 4"x6" prints in about 1:30, and 5"x7"s took about 2 minutes. An HP 110 ink cartridge can produce about 120 4"x6" prints. If you buy the ink and paper together ($34.99), your cost per 4"x6" print is around 29 cents. The images look every bit as good as lab quality, including a smudge and fade resistant surface.
Image Adjustments and Enhancements
The HP A626 has a few basic image editing tools, such as brightness, red eye correction, and cropping. They don't have the power of what you can do on your computer, but they do come in handy when printing directly from the memory card. I used cropping and brightness quite often with good results. The LCD is not a calibrated screen (nor would I expect it to be), so images look brighter and "cooler" on the LCD than what later appears in the print tray. After a few rounds however, I was able to anticipate the results that I could expect from my edits.
There's also an array of creative features such as the ability to freehand draw on a picture, add type, convert to B&W, add frames and clipart, and the most interesting of them all... slimming. Use this feature with extreme care. It actually narrows your subject in an attempt to shed unwanted pounds. But what is really does is squeeze them inward causing the face to elongate. If you do try slimming, I recommend only applying it at the mildest level.
I was not impressed with the B&W conversion either. The photos turned out dull and without snap. But the clipart was a hoot, and I actually had fun adding birthday balloons and other goodies to photos.
Nice Touches
The HP A626 has a number of nice touches that impressed me. I liked the ink status icon that was always visible in the upper left corner of the LCD. Working directly from memory cards seems much more efficient than printing via PictBridge that required your camera to be powered up. Plus, you don't get all of the editing and creative features when tethered via cable (but are available when printing with the card inserted into the printer).
If you're a Raw shooter, then keep in mind that you need to use the Raw+Jpeg option on your camera. The A626 can read the Jpegs and enable direct printing from your memory card. Later on, you can upload the Raw files to your computer for more precise image editing. This is a great way to enjoy pure amateur snap-shooting and serious fine art photography at the same time.
It's also a nice touch that you can buy an accessory rechargeable battery for the printer to make it totally portable. There's a hidden bay on the bottom for this accessory. It would have been really cool to have the AC adaptor fit in the empty bay for those who don't purchase the battery. Unfortunately the adapter is a tad too thick for stowing there. Seems like a missed opportunity.
Bottom Line
I highly recommend the HP Photosmart A626 Compact Printer. The image quality is excellent, plus you can print up to 5"x7", and on a variety of media including CD labels, photo stickers, and passport photos. If you connect the printer to your Mac or PC, you have access to HP's excellent driver software, plus the A626 works as a standalone memory card reader.
But this printer really shines when working solo on the kitchen counter or hotel room desk. Simple insert your memory card full of images, browse for your favorites on the bright LCD screen, make a few minor adjustments, then print. Suddenly you're free from the computer (and it feels good). The A626 is compact enough to easily fit in your suitcase or toss in the back of the car. This HP compact is available now for about $185 US.
Technorati Tags: digital photography, equipment, review, The Digital Story