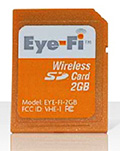 "Photos shouldn't be trapped in your camera," say the creators of Eye-Fi, a wireless memory card that enables you to upload images from your camera to a computer or one of its online partners.
This is most likely one of those stop-gap technologies, like the CD burner, that's useful until camera manufacturers get their wireless acts together and provide W-Fi as a standard feature. The good news is with the Eye-Fi, however, that even if your don't use its wireless capability, you still have a 2 GB memory card.
Eye-Fi is for Jpeg shooters, but I suspect that if you shoot Raw+Jpeg, you can have your Raw plus wireless too. in addition to sending images to your Mac or PC, you can upload to Kodak Gallery, Wal Mart, Shutterfly, Snapfish, PhotoBucket, FaceBook, WebShots, Picasa, SmugMug, Flickr, Fotki, TypePad, Vox, DotPhoto, PhanFare, Sharpcast, and Gallery.
The wireless range of the Eye-Fi is about 45 feet indoors, and twice that outside. It's compatible with 802.11g, 802.11b, and even 802.11n networks. It has decent security too: Static WEP 40/104/128, WPA-PSK, and WPA2-PSK.
You can purchase Eye-Fi on Amazon.com for $99.99
Technorati Tags: digital photography, equipment, The Digital Story, Eye-Fi, Wi-Fi, Wireless