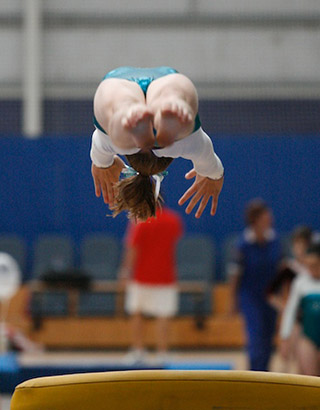 "I attended my daughter's gymnastic competition last weekend and managed to get some great action shots with the new Canon 70 - 200mm f4 L," said Paul Merrett. "Typically gymnastic halls are dark and make action photography quite a challenge. I was lucky this time as the place was well lit with lot of translucent sheets in the roof."
"I grade my photos according to the usual filters such as composition and aesthetics. Then my wife decimates my gym photos with correct (gymnastic) technique. Comments like "non-pointed toes," "bent back," and "wrong shape" come fast and furious. Plenty of shots I love get demoted because of incorrect gym technique. I can understand. Nobody wants a photo of themselves hitting a tennis ball with the wrong end of the racket! Needless to say, in this photo. My daughters back is correct, feet pointed, etc. (phew) She scored well on this run too."
Paul set his Canon 400D to f4, 1/500, 200mm, ISO 1600 for this terrific shot.
If you have a candid you'd like to share, take a look at our Submissions page, then send us your Grab Shot. If we publish it, you'll receive an ultra cool custom carabineer keychain.
And you can view more images from our virtual camera club in the Member Photo Gallery.
Events! See the TDS Event Calendar for photography workshops, speaking engagements, and trade show appearances.
---
Technorati Tags: candid, digital photography, grab shot, The Digital Story