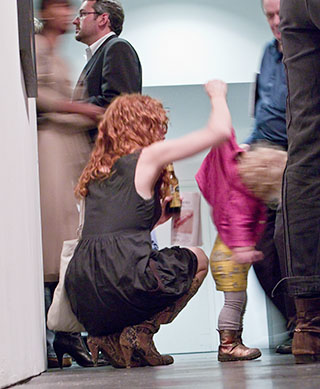 As part of my PhotoPlus activities, I was invited to the Digital Photo Masters Event last night, which took place on the 22nd floor of the AT&T building on the Avenue of the Americas in NYC. The atmosphere felt very New York trendy to this California boy -- loft with high ceiling, lots of artwork, expensive shoes, dispassionate DJ, and an air of importance.
Among the highbrow activity was a nicely-booted mom with child in tow. It was odd to see a child in this otherwise very adult setting. At one point the child had a clothing malfunction prompting the mom to do what mothers do best... quickly remedy the situation and get back to business.
I set my Canon G9 on the floor and peered down into the LCD monitor to line up this shot. Settings were ISO 400, flash off, 1/8 of a second at f-3.5, image stabilizer on, using Raw capture. Having my camera out and ready to shoot enabled me to capture this grab shot.
Photo by Derrick Story
If you have a candid you'd like to share, take a look at our Submissions page, then send us your Grab Shot. If we publish it, you'll receive an ultra cool custom carabineer keychain.
And you can view more images from our virtual camera club in the Member Photo Gallery.
Events! See the TDS Event Calendar for photography workshops, speaking engagements, and trade show appearances.
---
Technorati Tags: candid, digital photography, grab shot, The Digital Story