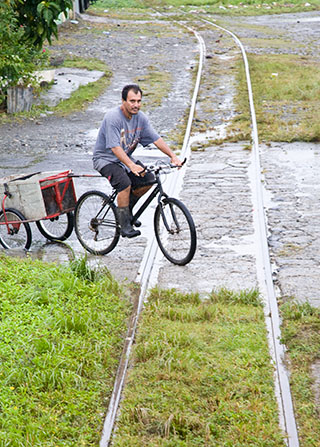 Shooting in Costa Rica was a true adventure. The rain was pouring, so my uniform was Tevas, swimming trunks, and a mesh shirt. The Canon 5D performed great in the inclement weather. I had brought the SD700 IS in its waterproof housing, but it wasn't the right camera for people shots. The 5D was the king of the day.
In this podcast, I return home to catch up, share a few anecdotes, and get us all back on the right photography track. (I do make an error however and say that the photo assignment for Nov. is "water." That's wrong! The assignment is Light and Dark. Sorry about that. Still getting back in the groove.
Costa Rican Cyclist -- by Derrick Story, captured with a Canon 5D, 24-105 mm L zoom, ISO 640, Cloudy WB, 1/250 @ f-6.7.
Monthly Photo Assignment
Light and Dark is this month's photo assignment. It's time to work with shadows and pools of light. See how you can manage a composition that features interesting highlights and shadows. You can read more about how to submit on our Submissions page. Deadline for entry is Nov. 30.
Listen to the Podcast
Now that I've piqued your curiosity, it's time to listen to today's audio show titled, "Catching Up." You can download the podcast here (31 minutes). You can also subscribe to the podcast in iTunes
The Digital Story Podcasts are available for direct download from Apple iPhones. I've created a special mobile download page here. Just load the page in Safari, browse the podcast line-up, and click on the one you want to listen to.
Want to share photos and talk with other members in our virtual camera club? Check out our new Flickr Public Group. It's a blast!
Have you looked at the Park by the Numbers Camera Phone Project? If you have a camera phone, you've got to check this out.

Events! See the TDS Event Calendar for photography workshops, speaking engagements, and trade show appearances.
---
Technorati Tags: Caribbean, Costa Rica, digital photography, podcast, Technology, The Digital Story
---
Sponsor Notes...
Add Magic to Your Slideshows -- FotoMagico presentations are so amazing that your audience will be asking how you did it.