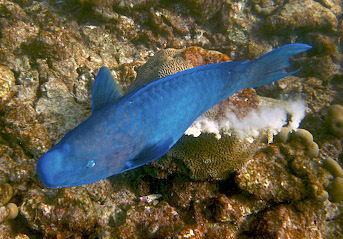 Shooting underwater presents different challenges than topside. We docked in Oranjestad, Aruba. Then a handful of us caught a bus over to a little marina where we hopped on a rustic tender to De Palm Island. For the next four hours we could snorkel, relax in the white sand, and partake in the occasional Pina Colada.
I was shooting with my Canon SD700 IS in its underwater housing. At first I was concerned about visibility because the water was churning. Sure enough, once beneath the surface, there wasn't the clarity I had hoped for. But I noticed that when I positioned myself so the sun was over my shoulder, the shots were much cleaner than from other angles.
Now you may be thinking this is simple, right? Well, it's a whole different world underwater. And it was a fun problem finding the fish, then trying to get positioned to fire off a shot before they darted way.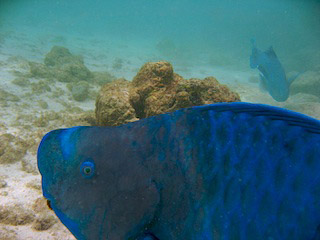 Even when I was in the right position, the movement of the water would produce a variety of effects. Sometimes in my favor, sometimes not. And finally, there was the task of composing the image on the LCD with all of those reflections.
I think dealing with the fickleness of light underwater makes snorkel photography fun. There are so many variables to contend with. And when I did get a good image, it was ever bit as satisfying as a beautiful landscape shot topside.
Photos by Derrick Story with a Canon SD700IS using the Underwater Scene Mode in a waterproof housing.
BTW: Can anyone identify this fish? If so, please leave a comment. They were very big, a couple feet easily, and easy going.
Technorati Tags: Carabbean, digital photography, The Digital Story, Aruba, Underwater