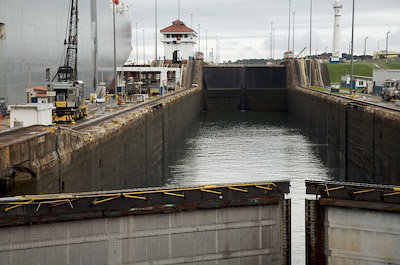 We approached the first of three locks just as the sun was rising Friday morning. I was looking forward to getting a close-up view of passing through the Panama Canal, but I have to say, it was more exciting than I had anticipated.
The first photo here shows how it looks from the bow of the Volendam as we entered the lock. There are many preparations that lead up to this moment. The most visual are the interactions with the locomotion helpers on both sides of the ship that guide us through the channel.
We only have a couple feet of spare room on each side of the ship. So the helpers have to be very skilled to keep the Volendam clear of the lock walls so they don't scrape the sides of the vessel. The second photo shows our exit from the final lock and you can clearly see how little spare room there is.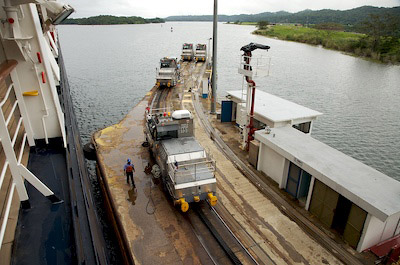 I shot with the Canon 5D and the 24-105mm L zoom. I worked the bow (front of the ship) for quite a while because I wanted to capture images of the locks opening up. I then went to the third deck where I could walk the perimeter of the ship to capture the details of our transfer.
It cost the Volendam $180,000 to pass through the Panama Canal. But after spending the entire morning watching and learning about the process, I have to say that this is a highly technical endeavor requiring lots of man power and expensive equipment.
I captured about 300 images, and I have 40 that I really like. What an experience.
Technorati Tags: digital photography, The Digital Story, Panama Canal