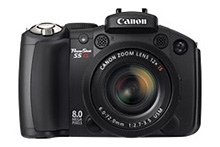 Is shutter lag your number one concern when shopping for a compact camera? If so, you might want to take a look at Digital Camera Shutter Lag Comparison Table on Cameras.co.uk. TDS member Mark Brokering was researching this issue for a friend who wants a compact with minimal lag time. When Mark found the table, he sent me the link (thanks Mark!).
Technorati Tags: digital photography, Technology, The Digital Story, Shutter Lag

Events! See the TDS Event Calendar for photography workshops, speaking engagements, and trade show appearances.
---