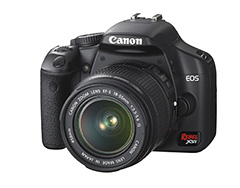 There are a lot of things to like about the just-announced Canon Digital Rebel XSi (450D). Inclusion of the DIGIC III processor is important. I'm using that processor in the G9, and it elevates the game noticeably. Also, 3.5 fps in a Rebel? My gosh, I don't have that speed in my EOS 5D. Having such a fast frame rate in a camera that sells for $799 US is a boon to folks who want to leverage burst mode. And you can shoot up to 53 JPEGs in burst, or 6 RAWs. Not bad at all.
The 3" Live View LCD is also a nice touch. Canon has designed this LCD so you can use it at odd viewing angles. You know how hard it is to shoot through a DSLR at ground level. Now with Live View on this well-designed LCD, low-angle shooting won't be a back-breaking task.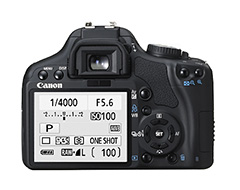 Believe it or not, I'm not as thrilled about the 12.2-megapixel sensor, especially if the DIGIC III can't control its noise at high ISOs. Since I haven't shot with the camera yet, it's too early to tell for sure. But I do know that my 10 megapixel XTi is nosier than the 8 megapixel XT. I'd like to see what the DIGIC III can do with a 10 megapixel sensor instead. But more to discover on this front.
I should also mention that, if you do go for the kit with the 18-55, that lens is now optically image stabilized, and it only costs you $100. Something to consider.
Overall, the Canon Rebel XSi looks like a great upgrade at a compelling price. I think its going to put great image quality and versatility in the hands of promising photographers... and the result will be more beautiful pictures. I'll follow up after I have a chance to play with the camera in Las Vegas at PMA.
The Canon XSi is available on Amazon for $799 US.
Technorati Tags: digital photography, DSLR, product review, Technology, The Digital Story, Canon Rebel XSi