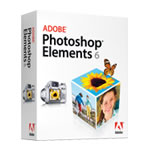 We think that Photoshop Elements 6 is one of the best values in Mac software (along with iLife 08). Adobe just announced Elements 6 for the Mac at a preorder price of $89.99 US and upgrade from $69.99 US. For those dollars you get a Universal Binary version of Photoshop that features many of Adobe's latest technologies such as Photomerge GroupShot, Faces, Web Galleries and improved tools for B&W and scrapbooking. Plus, you can even correct lens distortion.
Here's what Adobe has to say:
"New features based on proprietary Photomerge technology let users easily combine the best facial expressions and body language from a series of shots to create a single, perfect group shot. The new Quick Selection Tool reduces a once time-consuming select-and-adjust task to a single click. Photographers – beginner to expert – can choose from one of three edit modes, each geared toward a different experience level. A new Guided Edit mode helps walk users through the steps of improving a photo. Photoshop Elements 6 software streamlines editing with clean, uncluttered screens that draw focus to the photos, with new tabs providing simple access to the many capabilities of the program. Additional enhancements include an improved conversion tool that dramatically converts color images into elegant, nuanced black-and-whites."
Technorati Tags: digital photography, software, Technology, The Digital Story, Photoshop Elements 6