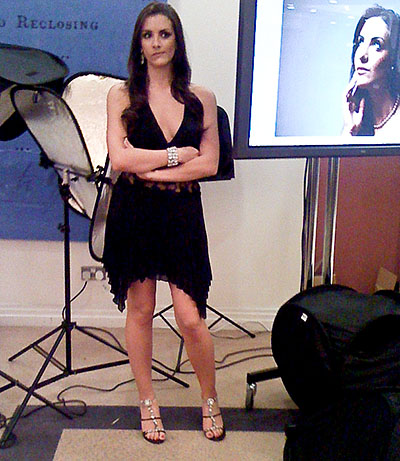 "While at the recent Nikon Expo in London, the model got bored waiting round for her session to start," said Matt Newsome. "Inset is the great look she could pull for the camera on demand, whereas I think her expression in this shot is probably the more honest one!"
Matt captured his grab shot with an Apple iPhone in existing light at f-2.8.
If you have a candid you'd like to share, take a look at our Submissions page, then send us your Grab Shot. If we publish it, you'll receive an ultra cool custom carabineer keychain.
And you can view more images from our virtual camera club in the Member Photo Gallery.

Events! See the TDS Event Calendar for photography workshops, speaking engagements, and trade show appearances. Next week is a busy one for me in the Bay Area of Northern California. Check out speaking events for Book Passage in Corte Madera and at Macworld in San Francisco.
---
Technorati Tags: candid, grab shot, The Digital Story