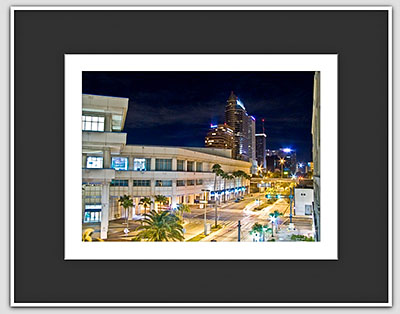 I've been sharing a lot of iPhoto '08 tips lately at Macworld SF in the O'Reilly Booth. But I discovered a new one this weekend that I thought you might enjoy. When you have a print, and want to figure out the perfect color for the front matte, you can do so right on your computer.
One of the new goodies in iPhoto '08 is the Customize function in the Print dialog box. It allows you to design (and print if you want) single and double mattes in a variety of color combinations. I wanted to figure out a good color standard matte to use for a few prints I had just output, so I loaded the images into iPhoto and used Customize to preview different colors.
It worked great! After a few minutes, I had figured out just the right combinations for all of my prints. Now I can order the mattes online, or just head down to the local art store with my notes.
You may be thinking at this point, "how does it look when you actually make a print with these "virtual mattes"? Actually, they look pretty cool. And for fun I wouldn't hesitate at all. But you will use a lot of ink for those big solid areas, plus, I still like the way a real rag paper matte looks. But in a pinch? Never say never.
Technorati Tags: digital photography, iPhoto, Technology, The Digital Story, tips