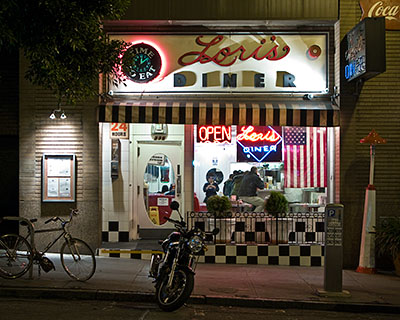 I constantly remind people to keep their compact cameras with them while on the go. That way if a great shot presets itself, they can grab it. But when going out for an evening stroll, take the portable tripod too!
Compact tripods, such as my favorite, Gorillapod by Joby ($22), enables me to use sign posts, newspaper machines, and just about anything else I can find standing still on the street, and use it for making long exposures. In the case of this image of Lori's Diner on Mason Street in San Francisco, I use the Gorillapod and a parking meter to make a 1/4 of a second exposure.
This technique will improve your street shooting at night, enabling you to capture sharp shots at low ISO settings (I used ISO 80 for this image on a Canon G9, and there is virtually no noise at all.) Then all you have to do is set your Drive mode to "self-timer," and the magical world of lights at night become your personal photo studio.
Photo by Derrick Story using a Canon G9 and Gorillapod.

Events! See the TDS Event Calendar for photography workshops, speaking engagements, and trade show appearances.
---
Technorati Tags: Canon G9, digital photography, technique, Technology, The Digital Story, Gorillapod