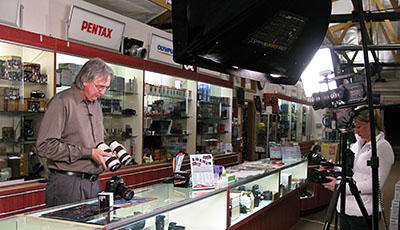 I spent yesterday evening locked in Samy's Camera store in Santa Barbara, CA (oh the humanity!). We were shooting video for my upcoming digital photography title on Lynda.com. In the shot illustrated here, I'm discussing the difference between large aperture zooms (using the Canon 70-200 f-2.8) and smaller aperture zooms (Canon 70-200 f-4).
We were very fortunate to be able to use a real camera store as a set. Richard, one of the store managers, even stayed after hours (10 pm!) to enable us to keep recording long after Samy's had closed. We shot at the photo counter... imagine being able to grab just any camera you want when trying to make a point. Then we moved over to the lighting area to set up another series of shots. One of my favorite areas of the Santa Barbara store was the image gallery in the back that features shows by top name photographers.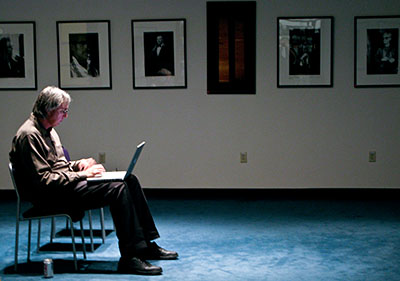 A technical director on the shoot, Max Smith, grabbed my G9 and captured this shot of me checking email in the gallery during a break in the action.
I think the live action footage that we recorded in Samy's is going to be a nice addition to the title. It will be combined with some other cool studio techniques that we came up with at Lynda's. The first of the three titles should be out next month. I'll keep you posted.
Photos by Max Smith, captured with a Canon G9 at Samy's Camera store in Santa Barbara, CA.
Technorati Tags: Canon G9, digital photography, Technology, The Digital Story, Lynda.com