Sometimes the perfect storm is a good thing. On Sunday, I was driving from Santa Rosa, CA south to Ventura. I was scheduled to begin two weeks of recording for a digital photography title with Lynda.com. I knew I would be there in the studio when Aperture 2.0 was announced, but wasn't at liberty to discuss it. But what a great opportunity! Wouldn't it be wonderful to actually record the training title on the day Aperture 2 was released?
My producer, Chris Mattia, had a similar thought once he heard the news. By 9:30 am on Tuesday, he was clearing a path to enable us to start recording the Aperture 2 New Features title. Fifty-five hours later, 22 movies were posted online ready for viewing. Six of the movies are free and can be viewed by anyone right now.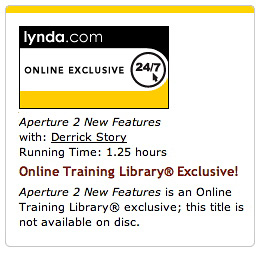 The primary areas I focused on in this New Features title include:
Interface changes including the tabbed inspector and new double-click behavior
Performance improvements featuring Quick Preview that accelerates all photo management functions
New image decoding with the introduction of RAW 2.0 processing and Baseline DNG
Additional image editing tools including Recovery, Vibrancy, Color Dropper, and the Retouch brush
Customizable keyboard shortcuts enabling you to choose your own keystrokes for core operations
.Mac Web Gallery creation for simple, but powerful Web display directly from Aperture
As I admit in the first movie in the title, I don't tackle everything that's in this release of Aperture 2. But I do think we covered the stuff that's really important. Plus, having the opportunity to work in such a timely manner is very exciting.
And in case you were wondering... this is a great release of Aperture. Apple did a terrific job.
Technorati Tags: Aperture, digital photography, Technology, The Digital Story, video