I have this fun talk I've been doing at conferences and user group meetings titled Five Ways to Make Your Photos Look Better, and this coming Thursday, March March 27 at 10 am Pacific Time (17:00 GMT), I'm going to share it online via a live webinar hosted by O'Reilly Media.
The gist of it is this: Thousands of pictures are recorded every day. Many of these shots are personal and not meant to be viewed as art. But what if you could capture the world everyone else sees, but in a more beautiful way? Derrick (that would be me) shows you five ways to make your pictures look a cut above those snapshots we typically see.
You can sign up here for the webinar, but you might want to do so soon; there is a limited number of seats.
It's my first whack at this medium. I think it's going to be loads of fun.
---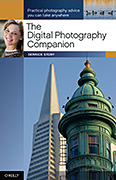 Now Available! The Digital Photography Companion. The official guide for The Digital Story Virtual Camera Club.
25 handy and informative tables for quick reference.
Metadata listings for every photo in the book
Dedicated chapter on making printing easy.
Photo management software guide.
Many, many inside tips gleaned from years of experience.
Comprehensive (214 pages), yet fits easily in camera bag.
---
Technorati Tags: digital photography, Digital Photography Companion, Technology, The Digital Story, webinar