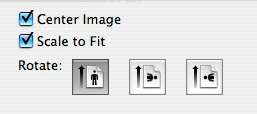 Be sure to download the free reference card that you can print on a standard 4 x 6 sheet of photo paper and carry in your camera bag. The card, titled, "After Every Shoot," lists the 10 reminders that you need to pay attention to at the close of each session.
In this podcast, I go over every point on the list. Once you finish listening, download the Jpeg image below and print it on a sheet of standard 4 x 6 photo paper. For best results, print in "portrait" mode (vertically aligned paper), center the image, and scale to fit (see illustration above for settings). You'll then have a handy reminder card that you can carry around. Print as many as you like and share with friends too.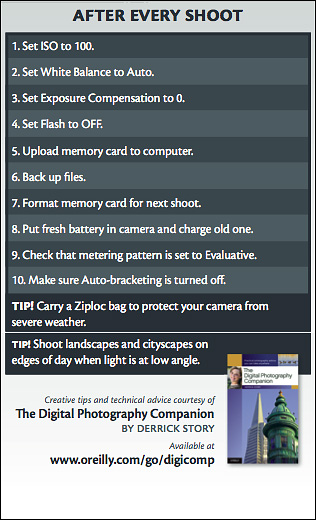 You can add your own notes to the back of the card, use it to shade the lens on bright days, or fan yourself if it gets too hot while you're on location. It's also the perfect bookmark for your copy of The Digital Photography Companion. So many uses for this handy freebie.
Monthly Photo Assignment
Angular is this month's photo assignment. Just about everything intersects at some sort of angle... lots of possibilities for this one. You can read more about how to submit on our Submissions page. Deadline for entry is April 30.
Listen to the Podcast
Now that I've piqued your curiosity, it's time to listen to today's audio show titled, "After Every Shoot." You can download the podcast here (31 minutes). You can also subscribe to the podcast in iTunes
The Digital Story Podcasts are available for direct download from Apple iPhones. I've created a special mobile download page here. Just load the page in Safari, browse the podcast line-up, and click on the one you want to listen to.
Want to share photos and talk with other members in our virtual camera club? Check out our new Flickr Public Group. It's a blast!

Events! See the TDS Event Calendar for photography workshops, speaking engagements, and trade show appearances.
---
Technorati Tags: digital photography, podcast, technique, Technology, The Digital Story, tips
---
Sponsor Notes...
Lowepro Bags for Photographers On the Go -- Lowepro gear for every type of camera rig, every type of photographer.
Add Magic to Your Slideshows -- FotoMagico presentations are so amazing that your audience will be asking how you did it.