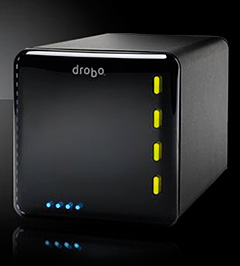 The Drobo is labeled as "Fully Automated SATA Robotic Storage Array," which sounds a little intimidating, like something that will taunt the cat when you're not around. But actually, it's a fairly clever device about the size of a toaster that you can insert up to four SATA hard drives. After doing so, Drobo takes it from there. It stores any data that you write to it, automatically backs it up, and constantly monitors the situation making necessary adjustments and repairs while you're out doing what you should be doing, taking pictures.
As a passionate digital photographer, I had pledged to figure out my storage solution in 2008. Prior to the Drobo, I would purchase a standalone 500 GB hard drive, use it until it was full, catalog it, put it on the shelve next to the other drives, and start all over again. I was storing big Raw files, music, movies, and all my other data. I decided that I wanted to separate my photography data from the rest of my stuff. And if I could find a good photo storage solution, that it would take pressure off the rest of my backup needs. After asking around and reading some research online, I decided to try the Drobo to store my photos.
I purchased the Drobo for about $465 and two 750 GB SATA drives for $165 each, making for an investment of just under $800 -- fairly sizable for sure. In return I get over a Terabyte of automated, backed-up storage that I can expand with additional drives whenever I want.
Preparing the Drobo for Network Sharing
My thought was to put the Drobo on my AirPort Extreme network that also handles my Internet and printing. I had saved one open port on the USB hub for network storage, and that's where the Drobo was going. Setup, as advertised, was easy. I unpacked the Drobo, inserted the two hard drives and connected it directly to my MacBook Pro running Leopard. I did this so I could use the Drobo Dashboard to initialize the hard drives. Unfortunately, Dashboard doesn't recognize the Drobo on an 802.11 network, so you have to perform the initial set up with the Drobo directly connected to a computer. You only have to do this once. When you add SATA drives in the future, Drobo automatically prepares them for you.
After initial set up using Drobo's Mac formatting for the drives, I connected the robot to my network and accessed it via the "Shared" tab in the sidebar of any open Finder window in Leopard. You'll see the name of your network, and when you click on it, it will reveal the Drobo. At this point you can copy files just like you would with any connected hard drive. Drobo manages the information once it has it in its procession, and presumably you can go back to work with the peace of mind that your pictures are safe. And so far, this seems true.
Read/Write Speed on a Network
I work with three different laptops. What makes this configuration so nice is that I can back up files and print from any of my machines without ever connecting a wire. I can also grab files from the Drobo and copy to any machine. But there is a price for this convenience, and it is read/write speed. For my first test, I copied and Aperture archive that was 14 GBs. It took 90 minutes to complete the transfer over the wireless network. I did a little more research and found an article on AppleInsider titled, Exploring Time Capsule: theoretical speed vs practical throughput. There is a table near the bottom of the article that compares throughput speed with different connections: direct USB, Ethernet networking, and wireless networking. The chart shows a big difference between direct USB connection (30 MB/sec) and 802.11g connection (3 MB/sec). So, there's a major bump in speed when connecting the Drobo directly to a computer compared to putting it on a wireless network. My one hope was that a 802.11n network has a 9 MB/sec throughput, which isn't bad. So, I revisited my network setup to make sure I was taking full advantage of the AirPort Extreme's 802.11n capabilities.
I opened the AirPort Utility (Applications > Utilities > AirPort Utility), clicked on the Wireless tab, and selected "802.11n only (5 Ghz)" from the Radio Mode. (Previously, I had been using 802.11n (802.11b/g compatible.) I then ran my 14 GB test again. This time the Aperture archive transferred in, well, 90 minutes. So, apparently I was getting as much out of my network as it had to offer. Further messing around with settings didn't make any noticeable improvements. Well, at least now I know.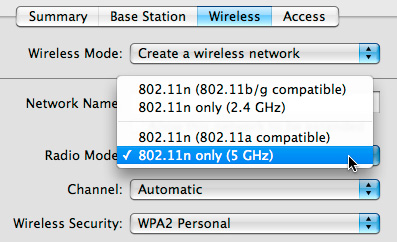 I tried making a few changes to my network, but performance remained the same.
The good news is that file copying can happen in the background. So I just start uploading when I first arrive, and everything is finished by the time I'm ready to pack up and hit the field. If I wanted to spend another $200, I could purchase a DroboShare that lets me use Gigabit Ethernet (40 MB/sec). That should speed things up considerably, and if the current 802.11 network begins to drive me crazy, I might start saving my pennies for the upgrade. (Or do I want another hard drive for that third slot!)
I have a couple of tips too. If you get a "Connection Failed" message when trying to access the Drobo, you probably just have to click the "Connect As" button and enter the network password. That did the trick for me. And if you want your Drobo icon to display on the Desktop, open Finder Preferences and check the "Connected servers" box under the General tab.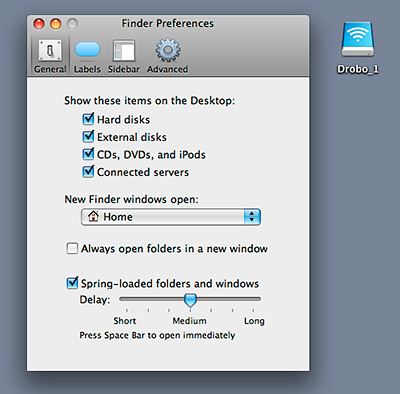 Final Thoughts
Drobo is both Mac and Windows compatible. If you use it on a Mac, I recommend the latest version of Leopard, and make sure you have the current firmware update for AirPort Extreme (7.3.1 at the time of writing). This allows you to use the Drobo with Time Machine, which is fairly nifty. The Drobo web site contains a wealth of information, and is worth investigating if you have a particular strategy in mind.
As for me, time will tell. Right now, I'm still fine-tuning my backup gameplan that includes Drobo for much of the heavy lifting. I don't plan on using it for any realtime work, such as Aperture or Lightroom referenced files. The network performance would be too slow for me. But, so far, I do like this solution for archiving my work. Last night I sent a 42 GB job to the Drobo for safe keeping. This morning everything was there safe and sound. If I continue to like the way it performs over the long haul, I'll probably purchase another for offsite storage too. For the time being, I'll continue to use 500 GB drives offsite for redundancy, and count on the Drobo as my primary storage.
What really jumps out at me after this exercise is that there is still no single solution that handles all of my storage and backup needs the way that I want. The Drobo moves the ball forward, and I appreciate that. But I still have a ways to go.
If you've tested the Drobo yourself, please post a comment with your thoughts, and any tips you have for fine-tuning your backup strategy.
Technorati Tags: digital photography, Technology, The Digital Story, Drobo, backup, Derrick Story