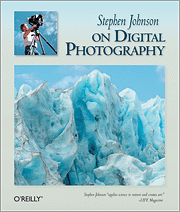 Sometimes we can't just leave well enough alone... If you downloaded Podcast 123, Interview with Stephen Johnson on Tuesday or Wednesday (April 8 & 9), then you noticed that my segments covering virtual camera club business sounded terrible. What happened was that in an attempt to remove some of the background noise from the Johnson interview on the expo hall floor at Photoshop World, we totally butchered the in studio stuff. Yuck!
I've since reposted the audio and it sounds so much better. You can redownload the podcast here (28 minutes). You can also subscribe to the podcast in iTunes
Sorry about that!
It's a great interview, however, I hope you listen to what Stephen has to say.
---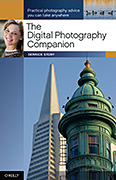 Now Available! The Digital Photography Companion. The official guide for The Digital Story Virtual Camera Club.
25 handy and informative tables for quick reference.
Metadata listings for every photo in the book
Dedicated chapter on making printing easy.
Photo management software guide.
Many, many inside tips gleaned from years of experience.
Comprehensive (214 pages), yet fits easily in camera bag.
---
Technorati Tags: digital photography, Technology, The Digital Story