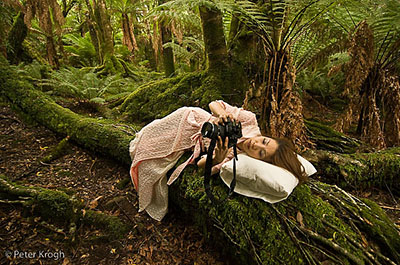 "We found this beautiful place in some old growth rain forrest, and Maki did an installment in her Makirama series," writes Peter Krogh. "I was running camera for her -- pushing the button when she was ready. After a series of images, I handed her the camera for review."
This is just a taste of the compelling imagery being posted from the Adobe Photoshop Lightroom Adventure 2008: Tasmania, where a team of more than 20 photographers "traveled to the end of the world, literally, to the remote island of Tasmania. Their mission is to road test specialized digital photography software designed by Adobe [Lightroom] while capturing images from one of the world's most mysterious and varied geographic locations."
In addition to the bounty of great photographs, there are blog posts discussing the event itself. It's truly a modern adventure, and I thought you might want to see what these artists have captured.
Photograph by Peter Krogh.
Technorati Tags: Adobe Lightroom, digital photography, Technology, The Digital Story