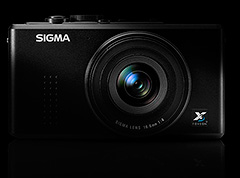 So another theory bites the dust. For months I've thought that if high-end compact cameras only packed bigger sensors, we would get better high-ISO performance and be able to use these devices for existing light photography in dim environments. But our first test case has not proven this theory to be true.
DP Review just analyzed the new Sigma DP1 compact that uses an image sensor that's nearly the size of a Nikon APS-C sensor, which is many times bigger than the standard 1 1/8" chip found in most compacts. You can see the size comparison on the first page of the DP review. Yet, in their wrap-up of the DP1's features, they write:
"While the DP1 can produce some brilliant results in daylight, it is almost completely useless in any low light situations. At higher sensitivities you'll find large amounts of chroma noise in your images, and you start losing detail. Turning on the flash won't help you much either, it is very low power and takes ages to recycle. Chances are you would not be able to focus anyway. The AF gives up completely once you dim the lights and there is no AF help light on the DP1."
Ouch!
So, this big Foveon sensor is no better in low light than my tote-around point and shoot. Of course, there could be other contributing factors to this, such as the Foveon technology itself, the supporting electronics, or some other thing that I just don't get. But the bottom line is, our first test case for putting a big sensor in a small camera fails to improve low light performance.
So, for now anyway, looks like I'll stick with my Canon G9. Maybe Sigma will go back to the drawing board and improve performance with the DP2.
---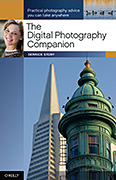 Now Available! The Digital Photography Companion. The official guide for The Digital Story Virtual Camera Club.
25 handy and informative tables for quick reference.
Metadata listings for every photo in the book
Dedicated chapter on making printing easy.
Photo management software guide.
Many, many inside tips gleaned from years of experience.
Comprehensive (214 pages), yet fits easily in camera bag.
---
Technorati Tags: digital photography, Technology, The Digital Story, Sigma DP1