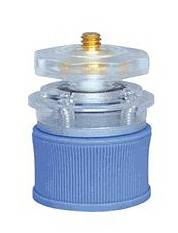 I saw this bottle cap tripod mount today while I was browsing in the Santa Fe Workshops Store. Basically you can convert most filled bottles into a tripod for your compact camera. Half fun. Half useful. Can usually find them for around $10. Thought you might get a kick out it.
Also, here's a fun video on how to make one yourself. The author says it only takes 5 minutes. But of course that's once you have all the parts together. Still, seems like a kick.
---
Now Available!
The Digital Photography Companion
. The official guide for The Digital Story Virtual Camera Club.
25 handy and informative tables for quick reference.
Metadata listings for every photo in the book
Dedicated chapter on making printing easy.
Photo management software guide.
Many, many inside tips gleaned from years of experience.
Comprehensive (214 pages), yet fits easily in camera bag.
---
Technorati Tags: digital photography, DIY, Technology, The Digital Story