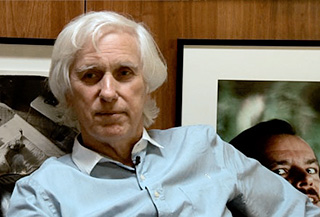 I just read in the Lynda.com newsletter that they released a new installment in their Creative Inspiration series: a profile of Douglas Kirkland.
Lynda Weinman writes, "This series of videos features Douglas Kirkland's photography, from his early career at Look magazine during the golden age of photojournalism in the 60s and 70s to his transition from analog to digital photography in the 90s. His iconic images of Marilyn Monroe, Elizabeth Taylor, Jack Nicholson, and Nicole Kidman, among others, are known all over the world. The piece is 1.25 hours long, and features movies on Douglas's work, his studio, and his on-location photo shoots. It also includes a presentation showcasing his body of work, a discussion with a group of high school photography students, an interview with Douglas and me, and more."
You can watch the 12 movies that comprise the profile for no charge. But your do have to register on the site providing your name and email address. Lynda doesn't share this information with other companies. As part of the bargain, you will receive her excellent monthly newsletter. (You can unsubscribe at any time.)
It's a real treat to spend some time with this legendary photographer. I hope you enjoy the videos. While you're there, you may want to check out the free movies for my Digital Photography Principles title.
Technorati Tags: digital photography, Lynda.com, Technology, The Digital Story