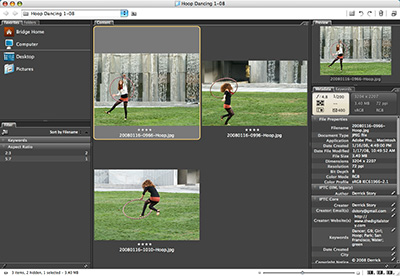 Adobe Bridge may be on your hard drive right now. And it's likely that you're not tapping its tremendous power. Bridge has the ability to help you quickly sort through a batch of pictures, review their metadata, add metadata, tap into ACR for image corrections, and more. This isn't necessarily a replacement for your current workflow, but a terrific tool for finding and turning around pictures in a hurry. Then, when you have time, you can go back and bring them into your normal system. I go over this in detail in this week's show.
Monthly Photo Assignment
Motion is this month's photo assignment. There are all sorts of possibilities for showing motion, from panning moving objects, to slowing down your shutter speed, to moving yourself. You can read more about how to submit on our Submissions page. Deadline for entry is May 31.
Listen to the Podcast
Now that I've piqued your curiosity, it's time to listen to today's audio show titled, "Handy Bridge." You can download the podcast here (30 minutes). You can also subscribe to the podcast in iTunes
The Digital Story Podcasts are available for direct download from Apple iPhones. I've created a special mobile download page here. Just load the page in Safari, browse the podcast line-up, and click on the one you want to listen to.
Want to share photos and talk with other members in our virtual camera club? Check out our new Flickr Public Group. It's a blast!

Events! See the TDS Event Calendar for photography workshops, speaking engagements, and trade show appearances.
---
Technorati Tags: digital photography, podcast, technique, Technology, The Digital Story, tips
---
Sponsor Notes...
Lowepro Bags for Photographers On the Go -- Lowepro gear for every type of camera rig, every type of photographer.
Add Magic to Your Slideshows -- FotoMagico presentations are so amazing that your audience will be asking how you did it.