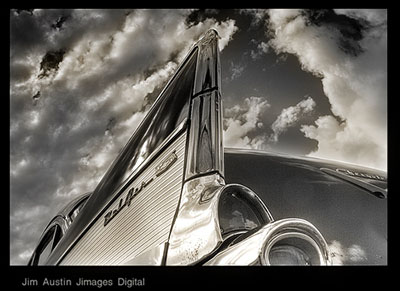 "It was late on a stormy afternoon in Everglades City, Florida," said Jim Austin. "The wind was howling, and a storm was on the way. Raindrops kissed the hot metal of a car nearby."
"I crouched down. The fins of the car, a 1957 Chevy BelAir, towered above my Canon EF 10-22 lens like a skyscraper. Resting on my stomach so I could gaze upwards, I made three bracketed exposures in color with a Canon DSLR."
"All three shots looked well-exposed in the viewfinder. By now the sky had opened and lighting and thunder were rolling in. The image title, "Chevy Above the Levy," goes all the way back to Don McLean's hit song, American Pie."
The Tools
The three framed were shot with a Canon Digital Rebel and 10-22 mm EFS Canon Canon lens (written up in My Favorite Lens on The Digital Story). Processing was done with Photomatix Pro software, available at www.hdrsoft.com. After tone mapping in Photomatix, Photoshop CS 3 and its channel mixer were used to create a high dynamic range of tones for black and white.
Visual Elements
In the process of making this image, I asked myself what visual elements made for interesting black and white HDR. I came up with shape, and symbolism. Where visual elements of design support a photograph, they expand its symbolic components, and this goes for high dynamic range pictures just as well.
For instance, a photograph can act as an analogy. The brilliant photography critic Susan Sontag pointed this out: "what makes something interesting is that it can be seen to be like, or analogous to, something else." For example, at first glimpse, the fins of the Chevy Bel Air reminded me of a large modern building.
Photo by Jim Austin.
More Tips from The Digital Photography Companion
"How I Did It" is a new feature of The Digital Story featured on The Digital Photography Companion mini site. These are techniques from virtual camera club members who have built upon information in The Digital Photography Companion, or have come up with new tips altogether.
We're building a living library of knowledge for everyone to use (and contribute to). If you have a "How I Did It" tip to share, just send it to me with the sample photo, and put "How I Did It" in the email subject.
---

Events! See the TDS Event Calendar for photography workshops, speaking engagements, and trade show appearances, including my Beginning Workflow with Adobe Photoshop and Lightroom on June 22-28, 2008 in Sante Fe, New Mexico.
---
Technorati Tags: digital photography, Digital Photography Companion, technique, Technology, The Digital Story, How I Did It