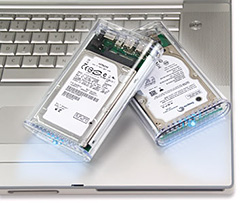 Other World Computing has recently announced their Mercury On-the-Go 320 GB FireWire portable hard drive. The specs are perfect for photographers on the go.
In a compact package that fits in your back pocket, you get lots of capacity, 7200 RPMs (fast for a portable), bus powered (no electrical adapter required), and three interfaces (FireWire 800.400 and USB 2.0). The going price is $280 US.
One of the big topics this week in my Photoshop Lightroom workshop in Santa Fe has been portable storage. Having a 320 GB drive (or two) seems like a good option for Raw shooters who work in the field.
Technorati Tags: Derrick Story, digital photography, Santa Fe Workshops, Technology, The Digital Story