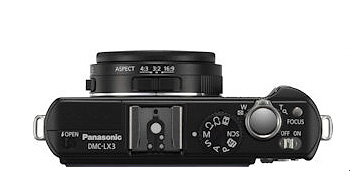 I'm not even interested in the silver model. I want the sexy black Panasonic DMC-LX3 compact camera. For starters, this model has 24mm-60mm f-2.0 (at 24mm) Leica Vario-Summicron zoom lens. Then add features such as Raw capture, larger 1/1.63 inch CCD, three aspect ratios (4:3, 3:2, 16:9), image stabilization, spot metering, 10.1 megapixels, 3:2 aspect ratio 3" LCD, and high definition movie capture up to 1280 x 720 at 30 fps - all in a handsome package that will fit easily in your jacket pocket.
I had the previous model, the LX2, on loan for about 6 months. And I have to say I really enjoyed using the camera. I liked the true 16:9 aspect ratio, especially combined with the excellent movie mode. I also liked being able to capture in Raw, even with my compact camera.
This latest model represents a trend at Panasonic. They are really trying to overcome the narrow field of view we usually have to tolerate with compact cameras. Often the widest focal length is around 36mms, which isn't really very wide at all. So to have a full 24mm wide angle lens, and at f-2.0 at that, is a real treat. This is a camera that you can shoot in tight quarters with. I do see Face Detection on the spec list. And that makes perfect sense given this camera has "event shooting" written all over it. And speaking of event shooting, the LX3 does have a hot shoe to support external flashes.
All in all, it looks like Panasonic has a real winner on its hands. I'm anxious to see images to determine if the bigger sensor and updated processing engine helps the LX3 control image noise better than its predecessors. The camera should be available in August, and it probably will retail for around $500 US.
Technorati Tags: Derrick Story, digital photography, Technology, The Digital Story, Panasonic LX3