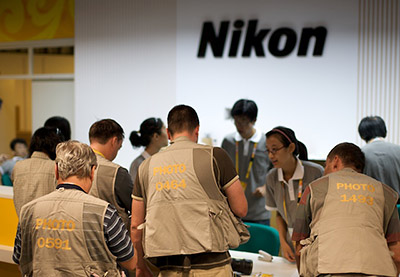 If you're an official photographer at the Olympics, you have to show the correct credentials, and you'll need your Kodak photography vest. Each vest has an ID number on the front and on the back. So at any time on location, photographers can be identified from a distance.
In general, the shooters aren't crazy about this system. Many of them would prefer not to wear a vest at all. But like many things at the Olympics, there is a system in place to help keep things running smoothly.
Shown here is the Nikon booth within the Kodak Image Center. Since the events haven't really started yet, the shooters are coming in to get last-minute equipment adjustments and to get organized for the busy period ahead. Canon has a similar set up at the other end of the room.
As for me, well it's fairly quiet today at the workstations. We have more than 50 Macs set up with Aperture, Photoshop, Transmit, and Photo Mechanic. During my shifts in the Center, I try to help photographers get their work done. I'll enjoy the casual pace now, because after Friday, everything will change.
Photo of the Nikon booth by Derrick Story.