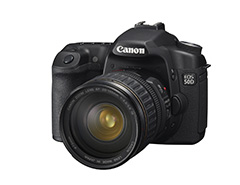 When the Canon 5D was released in Aug. 2005, the 20D was its APS-sized cousin. Then we saw the 30D, 40D, and now the 50D. Yet, in the affordable full-sized sensor arena, we still have the venerable 5D. That's why I was hoping that the pre-Photokina press release would be about the new Canon 5D. But alas, no.
The good news is (for other people), is that the 50D looks like a great camera. It sports a 15.1 APS sized CMOS sensor, 6.3 fps continuous mode, DIGIC 4 processor, 3" LCD with Live View and Face Detection, improved high ISO performance, and HDMI connectivity for HiDef playback. But my main camera is the 5D, and I really don't want to buy an APS body right now if an updated full-sensor shooter is around the corner. Who knows, maybe we'll see it at PMA next Winter.

Events! See the TDS Event Calendar for photography workshops, speaking engagements, and trade show appearances.
---
Technorati Tags: Derrick Story, digital photography, Technology, The Digital Story, Canon 50D