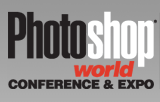 I'm on the ground at the Mandalay Bay hotel in Las Vegas for Photoshop World. It's the biannual gathering of enthusiasts who want to learn more about Photoshop and Lightroom, and who are fans of Scott Kelby. Scott is the man behind the scenes, the star of the show, and the entertainment. You could say that Photoshop World is Scott Kelby. From the moment you walk on to the Expo floor and see the imposing Kelby Training booth, you know who is in charge of this event. Even Adobe itself, the creator of Photoshop, seems dwarfed here.
But the training is good. I watched Dave Cross's session on Fixing Photographs, then found a place to stand in Ben Wilmore's Jaw Dropping Photoshop Tips, and learned a thing or two on the Expo floor in the Adobe booth. Tips and tricks are the mantras for the next few days. There are plenty of big name vendors here too, including Epson, Microsoft, Canon, Dell, drobo, Nikon, and iStockphoto. Plus, the Mandalay Bay is a terrific hotel that is clean, well appointed, and friendly.
If Photoshop is your thing, then Las Vegas is the place to be. The event wraps up Saturday, Sept. 6, around 4pm.
Technorati Tags: Technology, The Digital Story, Photoshop World