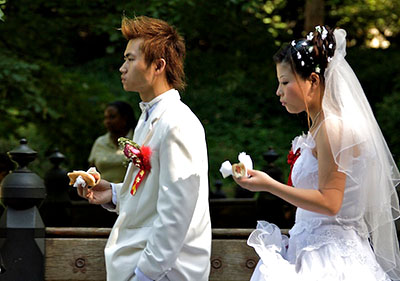 "This image was taken in Central Park, New York," said Martin Herrera Soler. "I guess these things only happen in New York? I never got to really know why this couple went o grab a hot dog... perhaps the reception food was not so good?"
Martin captured the newlyweds with a Canon 20D, ISO 400, 1/160 and f5.6.
If you have a candid you'd like to share, take a look at our Submissions page, then send us your Grab Shot. We'll try to get it published for you on The Digital Story.
And you can view more images from our virtual camera club in the Member Photo Gallery.
---
-
---
Technorati Tags: candid, digital photography, technique, Technology, The Digital Story