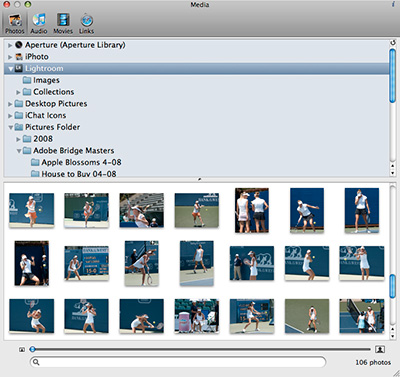 Regardless of which photo management software you're committed to -- Aperture, Lightroom, iPhoto, or your Pictures folder -- Karelia iMedia Browser will let you quickly look into any of those libraries. And if you want, drag something out. Oh, and if that wasn't cool enough, the download is free.
iMedia Browser has the handsome looks of Apple's Media Browser, and it runs wickedly fast. You can leave it running on the Dock, so you can take a peek inside any of your photo libraries on the fly, and if needed, drag out a shot. iMedia Browser also has a search field that has the same zippy performance of searching in iTunes. You can also use iMedia Browser to look for music, video, and bookmarks.
iMedia Browser won't acknowledge images that are out loose on drives or your computer. (This may be a good thing, organizationally speaking.) They have to be filed in the Pictures folder or contained in one of the above-mentioned applications. It will, however, find libraries on external drives. So, if you have an Aperture library on your laptop and another on a connected drive, iMedia Browser will show you both.
As you may have figured out by now, this application is for Mac users, running Mac OS X 10.4 or 10.5. Available in English, Danish, French, German, and Traditional and Simplified Chinese. It is one of the most handy utilities I've run across in a while.
Technorati Tags: Derrick Story, digital photography, Technology, The Digital Story, iMedia Browser