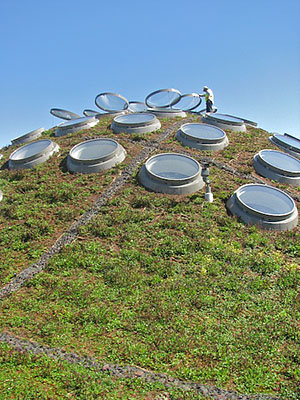 "A workman checks the skylights embedded in one of four hills of the Living Roof of the new California Academy of Sciences in Golden Gate Park, San Francisco," writes John Hershey. "As hot air rises from the exhibit floor, the skylights automatically open, functioning as vents. The planted rooftop provides superior insulation for the building below, substantially reducing energy needs. It absorbs 98 percent of the rainwater -- preventing ecosystem pollution, and is planted exclusively with native species."
"I shot this during a reserved preview day a week before the official opening of the new Academy structure."
John used an Canon PoewerShot SX100 IS at ISO 80 to capture this great shot.
---
-
---
Technorati Tags: candid, grab shot, Technology, The Digital Story