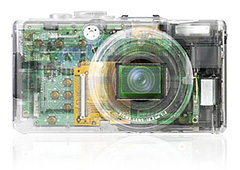 I've been reading up on the just-announced Sigma DP2 compact camera, and I have to say, I don't quite get it. I do understand that it uses the same 14 megapixel (2,652×1,768×3 layers) direct image sensor as the SD14 and DP1, which is huge for a compact. But the lens is a prime only at 24.2mm (equal to 43mm on a full frame sensor) with a maximum aperture of f/2.8.
Now, I love prime lenses as much as the next guy, but this day in age, why would I spend hundreds of dollars on a camera with only a 43mm lens? And at f/2.8 to boot? If it's going to be a single-focal length only, doesn't it at least have to be fast?
I understand the potential for great image quality here with the large Foveon sensor and shooting in Raw mode. And quite possibly I'm just a little more frugal than the target market for this camera. So, if you have a compelling argument to spend big dollars on this machine, I'd like you to post a comment saying why.
---
-
---
Technorati Tags: Derrick Story, digital photography, Technology, The Digital Story, Sigma DP2