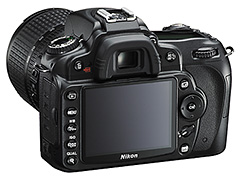 I had a chance to spend some time at the Nikon booth during my stay at Photoshop World, and I took a tour of the new Nikon D90. Specifically, I wanted to see the movie mode in action.
It's easy to use. You basically go to Live View, press a button, and the camera starts recording. You have to use manual focus, so I found it best to get the focusing the way I wanted before I started recording. I asked about image stabilization in movie mode. In other words, does the camera employ it if the user has an image stabilized lens mounted? I couldn't get a clear answer from the rep about that. He said he's waiting to hear back about it himself.
The audio recording isn't great. But the D90 will pick up mono audio from an on-camera mic. You'll probably want to use a separate recorder and sync the two files together. But the video file looks great in all of its HD glory.
My takeaway was that movie mode on the Nikon D90 is a strong opening salvo. But there's lots of room for improvement from both Nikon and its competitors. It should be a fun and interesting 2009.
Technorati Tags: Derrick Story, digital photography, Nikon D90, Technology, The Digital Story