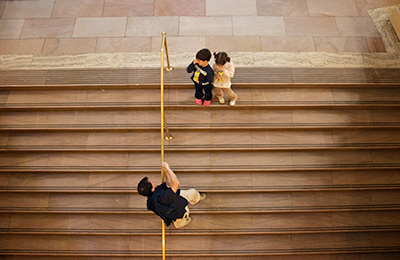 I booked a late flight for my last day in New York so I could roam around Manhattan and enjoy a little street shooting before returning to California. It had rained pretty hard the night before, but it cleared in the morning resulting in clean, crisp walking weather.
I decided to take the Olympus E-520 because it was light around my neck, and 10 MP Raw files felt about the right size. It's a great little camera, and shooting with it put me in a creative mood.
The first image (above) was recorded in Grand Central Station. I was standing on the balcony above watching a dad try to pose his children for a souvenir snapshot. He worked hard, I hope he got what he was after.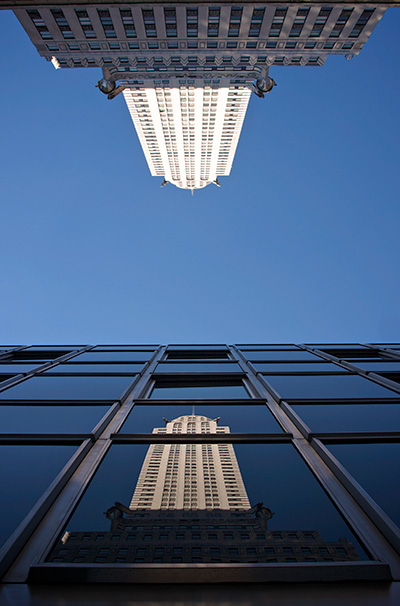 I wandered down to the Chrysler Building because it's such a wonderful structure, day or night. I'm always looking for a new angle to capture this old favorite. First, I found a good reflection in a glass building across the street. Then I discovered how to frame both the reflection and the Chrysler building in the same composition. This is the result.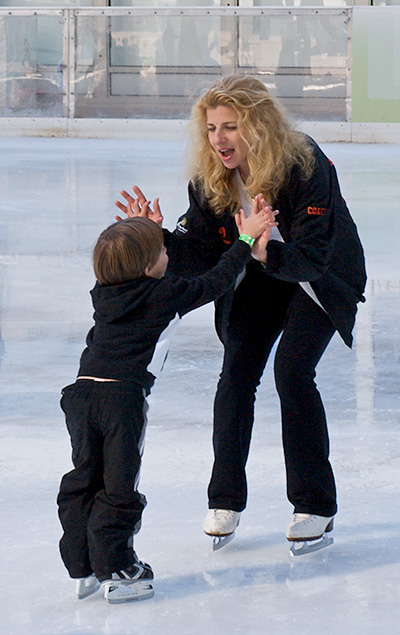 Finally, I discovered that they had installed an ice skating rink in Bryant Park. This little haven is always a great place to hang out on nice Sunday afternoons. The tree-lined park is located behind the New York Public Library, with lots of places to sit and enjoy the day. This shot is of a mom teaching her son how to ice skate, probably for the first time. He passed a little test, and they both were thrilled resulting in this "high ten."
I'll talk more about the trip in this week's podcast.
Photos by Derrick Story, captured with an Olympus E-520 DSLR.
Technorati Tags: candid, Derrick Story, digital photography, grab shot, Olympus E-520, Technology, The Digital Story