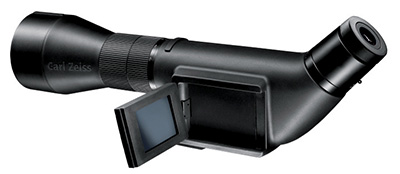 This is interesting. A Carl Zeiss spotting scope with integrated digital camera. It's like the marriage of peanut butter and chocholate. You can observe and photograph at the same time. It's called the PhotoScope.
They started with a premium scope with Carl Zeiss optics providing 15-45x magnification. Then added a 7MP camera that captures in both Jpeg and DNG (Raw). The result is a lightweight, versatile device for outdoor enthusiasts.
"Unlike SLR cameras with a hinged mirror, the beam splitter projects the image to the 7 megapixel sensor with low noise and, above all, without any vibration. The camera is triggered by an electronic remote-control. This avoids blur caused by camera shake which is always a problem with such extreme focal lengths," says the documentation.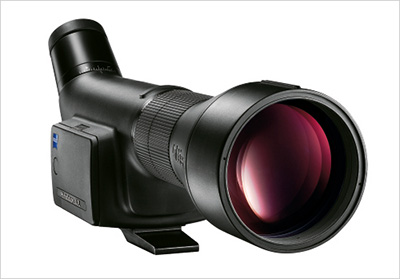 Carl Zeiss will release the PhotoScope during spring of 2009. No price has been announced for it yet.
Technorati Tags: Derrick Story, digital photography, Technology, The Digital Story, Carl Zeiss PhotoScope