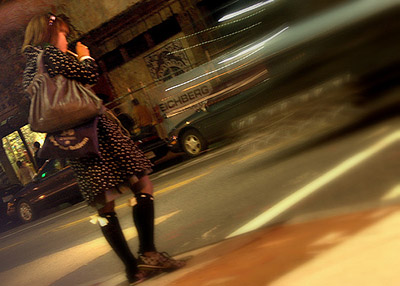 "For this girl, I wanted to represent my interpretation of her story," wrote Amber Rossman. By her outfit, she knows she is cooler than the rest of us and she stops for no one... except to light her cigarette (which added to her movie star quality). But the blur the city continued around her. I don't smoke... but i imagine this is what it feels like to give attention to your addiction -- you stop your busy life to get a moment of relief as the world buzzes around you."
"When I posted this shot on Flickr, I was blasted for posting a blury shot that 'appears to be a mistake.' I felt disappointment and maybe embarrased that I posted a silly shot like this -- I liked the framing... the dinginess that provokes the feeling of a big city street... the blur that conveys busy-loud-city vibe."
"Because I seek to learn from experienced photogs, I went to the critic's profile to see what I could learn from his work. Hmmm vindication! His profile exhibits his favorite quote (interestingly enough, his own), "Good photography is a science, Great photography is an accident". Cool."
Derrick's note: Amber had sent in a handful of candidates to be featured on Grab Shots. I'm so glad she stuck to her guns and included this image. I love it. And I'm happy to share it with our virtual camera club.
If you have a candid you'd like to share, take a look at our Submissions page, then send us your Grab Shot. We'll try to get it published for you on The Digital Story.
And you can view more images from our virtual camera club in the Member Photo Gallery.
---
-
---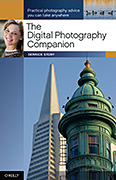 Now Available! The Digital Photography Companion.
The official guide for The Digital Story Virtual Camera Club.
25 handy and informative tables for quick reference.
Metadata listings for every photo in the book
Dedicated chapter on making printing easy.
Photo management software guide.
Many, many inside tips gleaned from years of experience.
Comprehensive (214 pages), yet fits easily in camera bag.
---