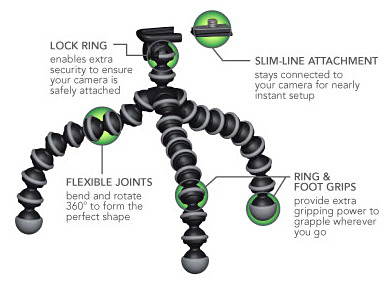 Next week's podcast will be a holiday gift guide for photographers. I'm recording the show on Sunday and am soliciting ideas from TDS members.
If you've discovered a gadget or photo accessory that you think would make a great addition to our gift guide, please send a note with the following information:
Its name
What it does
Where you can find it (web address preferred)
How much it costs ($100 or less)
Use the Subject for your email: TDS Gift Guide. You can find all the information on where to send you suggestion on our Submissions page.
Don't delay! Your great idea could make someone very happy this holiday season.
Image caption: The Gorilla Pod is a terrific holiday gift that is affordable and very useful for photographers.
---
-
---