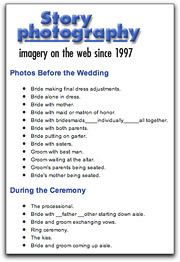 I've been working with clients on an upcoming wedding in February, and once again I'm amazed at how many issues have surfaced while collaborating on the shot list. After two weeks of back and forth, it's a different event than had originally been portrayed.
This is why I am such a proponent of shot lists for event photography. It is the best tool for discovering client expectations and seeing what is actually going on in their head. Many shooters have asked me, "Can't you simply discuss the wedding with the client?" You can, and you should. But don't let those conversations be your blueprint for the event.
First, there is no record of what you agreed upon. After the wedding is over, and they are complaining about a shot you missed, it's your word against theirs, and that's not a situation you want with a client. People sometimes "think" they told you something, but don't actually verbalize it.
A shot list is also your opportunity to fine tune the timing of the shoot. If the client, for example, lines up 20 group shots after the ceremony, but only provides 15 minutes between the end of the ceremony and the start of the reception, you need to intervene and suggest alternatives. I usually go three rounds of working out the shot list with clients, and most of that time is spent smoothing out the flow of the day.
Once everyone is satisfied with the contents and timing of the shot list, make sure the clients get a final copy and approve it. Also make sure that all of your assistants (and you) have it in your pocket during the event. I have one assistant assigned to checking off items during the course of the event. In the end, this leads to a less nerve-racking shoot for you and more satisfied clients.
If you need a starting point for a wedding shot list, you can download a sample shot list here. I highly advise you use a shot list for every event.
---
-
---
Technorati Tags: Derrick Story, digital photography, Technology, The Digital Story, Wedding