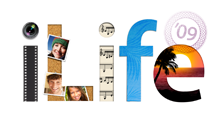 It's quite possible that iPhoto '09 may turn out to be the easiest way to geotag images for most hobbyist photographers. You don't have to worry about having a camera that tags at capture. Instead, it's very easy to add the information once your images are in iPhoto using the new Places functionality. (And I mean very easy.)
The key to success for me was: once you tag the image in iPhoto, could you export it with that location data? Since geodata is stored in the EXIF, you can't just write to those fields like you can with IPTC metadata (such as your copyright). I had been frustrated with tools such as Maperture, which do a good enough job of tagging while working in Aperture, but when you export the images, the geodata doesn't travel with them.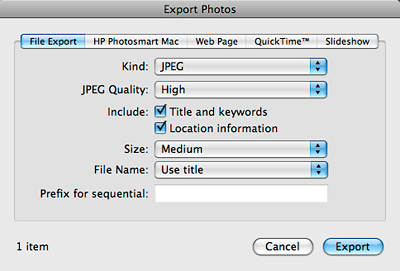 iPhoto '09 fixes that. When you export a geotagged image, be sure to check the box labeled "Include Location information." iPhoto then writes the geodata to the EXIF during export. You end up with a nicely geotagged image that you can share anywhere. I've tested this, and so far, I'm very pleased. I'll follow up with more on this in future posts.
See My Other Posts on Geotagging
First Look at Jobo photoGPS Device and Software
Update to Geotagging Workflow, Including Jobo photoGPS
Finding a Reasonable Geotagging Workflow
---
-
---
Technorati Tags: Derrick Story, digital photography, geotagging, iPhoto '09