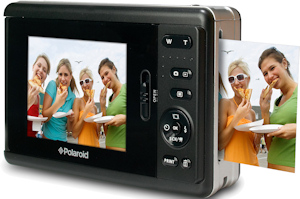 Want your printer and camera to be the same device? Then take a look at Polaroid PoGo Instant Digital Camera. Imaging Resource reports:
"It's not the first time we've featured a digital camera with built-in printer on this news page - in fact, over the years there have been quite a few... with dimensions of 4.7" x 3.0 x 2.0", though, the Polaroid PoGo instant digital camera would certainly rank among the smallest."
Starting in March 2009, you can pick up the camera for around $200 and a pack of film for about $5. Sounds perfect for parties!
---
-
---
Technorati Tags: Derrick Story, digital photography, Technology, The Digital Story